Financial Policy
Dr. Peterson and his staff are proud to be part of a team whose primary mission is to deliver the finest and most comprehensive periodontal services available today. We are concerned about your dental care and want to ensure that it is performed in the most responsible manner possible. In order to assist you with your investment in your dental health we have outlined our payment policy below. For a complete copy of our financial policy, please click here.
We ask that patients take care of the charges in full at the time of service. For your convenience we accept cash, checks, money orders, and major credit cards such as MasterCard, Visa, American Express and Discover as well as outside financing through Care Credit. To calculate how to fit treatment into your budget visit the Care Credit Payment Calculator. Care Credit application. Pay Care Credit bill.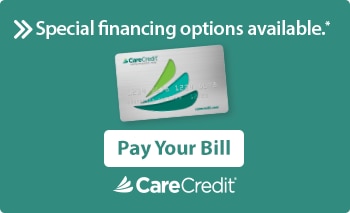 If you are unable to keep your scheduled appointment, we appreciate the courtesy of a phone call at least 48 hours in advance of any appointment that you need to change in any way. Appointments are customized to each individual patient and it is almost impossible to arrange a replacement on short notice. For missed appointments and cancellations with less than 48 hours notice, please note that we may require a pre-payment before rescheduling that appointment.
If you have any problems or questions, please ask our staff. They are well informed and up-to-date and can be reached by phone at 877-586-3040. Please call if you have any questions or concerns regarding your initial visit.
Please remember you are fully responsible for all fees charged at the time of service.